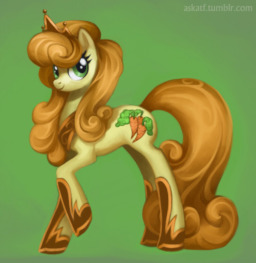 Source
In an alternate universe, Golden Harvest, or Carrot Top, is Lady Harvest, the Queen of Equestria. Having forced her subjects to eat nothing but carrots for their entire lives, she is facing a crisis. Ponies are revolting, and only with the help of her faithful student, Roseluck, can she expect to get through this in one piece.
If you take this seriously, you have nobody to blame but yourself for whatever happens.
Obviously, the title is a play on words of the Red Hot Chili Peppers song, "Monarchy of Roses".
Chapters (2)