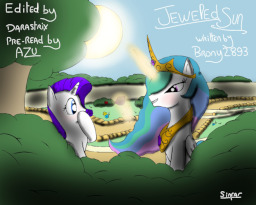 Source
Rarity moves to Canterlot to pursue more clients for her business, leaving Sweetie Belle in charge of Carousel Boutique. When Rarity arrives, she is generously offered a stay at Canterlot Castle free of charge, courtesy of Princess Celestia. Is the keeper of the sun simply being generous to one of the Elements, or does she have an ulterior motive for the marshmallow unicorn?
Rated teen for language and suggestive themes.
Edited by Darastrix.
Pre-read by Azu.
Title idea provided by Inferno demon Dash.
Cover image made by Sinrar.
Chapters (1)