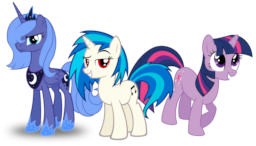 Everyone remembers how Twilight Sparkle and her friends defeated Nightmare Moon and restored balance and harmony to Equestria, what everyone does not remember, however, was that this was not the first time that it happened.
But I remember. I remember it as clear as day, and as I watched my sister fly away from the Royal Castle in Canterlot, I only wish that I hadn't been in denial.
Everything that happened was my fault.
---
A re-imagining of Wheller's first series.
Chapters (7)