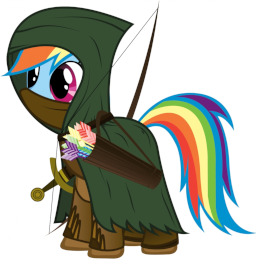 Source
Equestria has been at peace ever since King Solaris had taken the throne. But with war on the horizon, he must leave to protect his ponies from harm. While away, Prince Discord, a relative of King Solaris, brings chaos over the land. It's up to Rainbow Hood and her group of misfits to save the day. Of course, for Rainbow and her awesome hero saving skills, it'll be as easy as clearing the sky. Or so she thinks. Will she be the hero Trottingham needs or will something unexpected make her drop from the sky in "ten-seconds flat".
Story will contain shipping
TwiDash, Rarijack, Taviscratch.
Chapters (1)