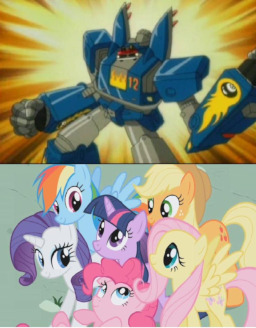 When two events collide through the fabric of space and time, Coop, a hotshot gamer whose skills with a controller are only match by his hunger, along with his giant robot car named Megas, wind up in a land of colorful talking ponies.
To make matters worse, he's been turned into one of them.
He'll have to learn how to handle the wheel with hooves quickly. Because even in Equestria there's plenty of trouble he can get into. Will this snack munching, video gaming, giant robot piloting force of destruction be able to cope?
With Twilight Sparkle, Applejack, Rainbow Dash, Rarity, Pinkie Pie and Fluttershy charged with watching over him, let's hope Celestia made the right choice.
Who knows? Maybe things'll turn out fine. After all, mares dig giant robots...right?
Chapters (10)