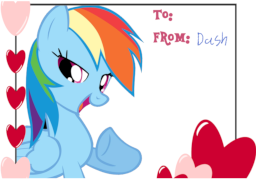 This story is a sequel to Girlfriend Friend 2: Royally Screwed
---
After Rarity told her that they weren't actually girlfriends, Rainbow Dash is feeling kind of bummed out. And that feeling is made worse by the fact it's Hearts and Hooves Day.
Determined to not be a single loser, Rainbow sets out to get herself a Marefriend!
Easier said than done.
Chapters (1)