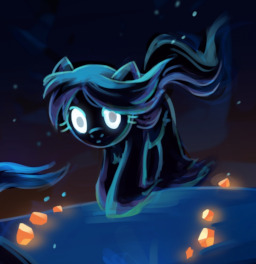 Source
Sombra's takeover took everyone in the Crystal Empire by surprise. No one saw it coming, none were prepared for it, and almost no one got away. Almost.
A few hooffuls of daring souls managed to break out of the city and flee southwards, towards Equestria. Some ran to beg the Princesses for aid, others just to save themselves and their families from the mad tyrant.
But as the refugees are about to learn, it's the dead of winter outside the Empire's shield, and the crystal ponies are far too used to their warm life in the city. One filly that gets separated from her parents while trying to get away learns that fact all too painfully...
Cover art by Marbo, Allfather of the Snowponies.
Additional tag:snowpony
Chapters (26)