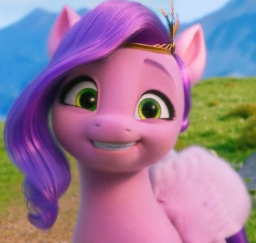 After magic has been restored everything should have gone back to normal and everypony was supposed to forget about the Royal families deception of Zephyr Heights... Except they didn't.
With Queen Haven going back home early to "straighten everything out" the sisters hope that they won't be landing in jail either, but that's not good enough for Pipp. Her second family, her fans, all the pegasi that called themselves the PippSqueaks felt betrayed and hurt by their idol.
Pipp wants them back more than anything, she wants to go back to Zephyr Heights and make it right with everypony and to do that she will have to dig deep into why she even is an idol and will end up doing something she has never done before to try to get them back. Open up on live TV.
Chapters (1)