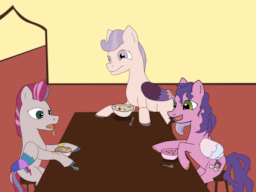 After Pipp sees a website promoting a digital detox, she decides to have a go. Zipp is amused. Unsure of what to do without her phone, Pipp tags along with her sister on a day trip.... without phones?
Warning: I haven't watched the movie itself This story was written just before I saw the movie, having only read the story line... and read stories... and watched reviews... and seen spoilers... If there are any small inconsistencies, that's why.
Pony App name cheat sheet:
I've made up some pony app names to simplify the writing of this story. Here are the app names and their equivalent sites. Not all of them are used in the story, but I'm probably going to do something with them in the future. Feel free to use these names if you wish.
RightNow – Twitter
Glance – Instagram
Let's Talk – Zoom/Skype
My Story – Facebook/blog
VideoTime – YouTube/streaming
Speak – Voice operated dictation app and phone 'command system' with a word processor
SMS, Mail, Local Files, Clock, Gallery, Camera, Calculator, Cloud, Calendar, Contacts, Card Wallet, Settings, Digital ID, Notes
PegaNet (now out of fashion) and PonyNet
Princess Pipp (www.princesspipp.com, not an actual link) a bookmarked web blog
Marketplace - Etsy/ebay/amazon

Also, an Invisible Band is the equivalent of a pony smartwatch which is 'invisible' because it is hidden under the pony's coat hair.
Chapters (1)