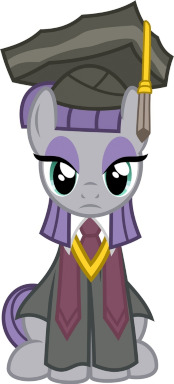 Source
Maud Pie takes a few things in her life very seriously; rocks, her education, and her relationship with her fillyfriends, Starlight Glimmer and Trixie. But when it seems like her fillyfriends have forgotten her big doctoral defense coming up, Maud Pie will have to figure out how to balance her education versus her two fillyfriends, and manage one of the biggest days of her scholastic career all by herself!
Written for the StarTrixMaud contest, this was my very first attempt at writing a trio! They're very cute together, and while the relationships are romantic, there's only SFW material in here. I would call this a slice of life romance, with an established trio who love each other very much!
Contest: https://www.fimfiction.net/blog/957718/startrixmaud-shipping-contest-24-july-31-august-2021
Winner of Second Place, and Best StarTrixMaud!
While it has been a joy to read the more unique and literary takes on what constitutes a "shipfic" between these three beloved characters, there is something to be said about the subset of works that are the most "central" to the theme: straightforward, slice-of-life stories without plot devices or unique premises or deep philosophical questions to distract from the shipping dynamics between the characters involved. While writing such a story can be very easy and quick, it is conversely a lot more difficult to stand out from similar stories of this genre simply by doing such a story very well. And that is precisely what It's Not A Big Deal; It's Just My Dissertation accomplishes.

Like many slice-of-life stories, as a sequence of events that happen, It's Not A Big Deal; It's Just My Dissertation could be described as a very common sitcom plot based on a misunderstanding. But the way said plot flows organically from the throuple dynamic, the richness of the little character details In their domestic life, and the sheer sweetness of their love and caring for each other evident in their every word and action had me squeeing at the end despite the resolution never having been in doubt. As any good slice-of-life fic, this one is about the journey and not the destination, and I just wish I could wrap the journey around me like Trixie's cape and nestle in its warmth forever.

--Bicyclette
Chapters (2)