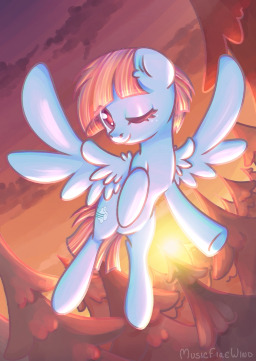 Source
Windy Whistles: the mare, the mystery, the legend. Who is she?
You may know her from her philanthropic work as the young student founder of the Birds Undergraduate Territorial Taskforce of Safety (BUTTS) program. Perhaps you were invited to her bespoke wedding (the colors: neon pink and electric blue) which featured the Longest Conga Line in Cloudsdale.
But perhaps, if you checked page twelve of the Cloudsdale Weekly last Monday, you would know her for another reason... the narrowly-avoided Plucky Lucky Disaster. Erm, the Plucky Lucky Wildfire? The Plucky Lucky Moderate Mishap?
Anyway, if you want to read a moderately-truthful telling of that adventure, read on!
An entry in the Ancestral Tribute contest.
Chapters (1)