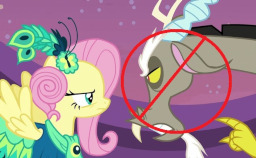 Source
This story is a sequel to I'm Going To Woo Fluttershy And Tase Discord
---
Despite everything, Fontana Beyoncé is still in Equestria, and she's trying to find where she fits in Fluttershy's life. But it seems wherever she turns she's hit with setbacks, whether it's the metaphorical guilt that hangs over her head for lying to the sweet Fluttershy, or the literal hooves of a foal kicking her shins in the market.
Fontana knows she has to tell Fluttershy the truth; but can she do it between 90s movie references, Fluttershy speaking like a living self-help manual, townsfolk insulting her at random, Rarity's speciesism, and a possible Discord return? Find out! In WOO FLUTTERSHY 2: 2 DISCORD, 2 TASE!
Written for Bicyclette's contest! And because Fontana is so ridiculously fun to write!
Chapters (1)