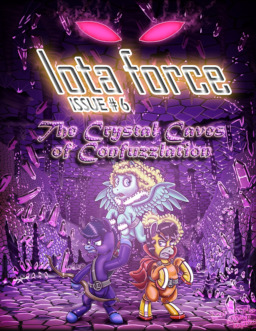 Source
This story is a sequel to A Sheet in the Wind (Iota Force Issue #5)
---
There is an ancient Pegasopolitan saying. Literally translated, it read, "Those who seek trouble often find it. Those who prepare for trouble are often found by it. Those who do both always meet it." However, this is somewhat longwinded in modern Equestrian, so a more modern, concise version of the saying is used in the modern day:
"Where heroes go, trouble follows."
Thus, it is sadly unsurprising that, on a week-long field trip (AKA vacation) to the Crystal Empire, Iota Force, Ponyville's young super hero team, encounter a mystery that demands their attention... and that in doing so, some of them get dropped into the middle of danger.
Now, trapped and isolated, Icy Flight, Archer and Truffle Shuffle must escape from the depths of the Caves of Sombra, fight their way through a gauntlet of traps and illusions and, somehow, stop the young pony responsible from reaching her goal and escaping.
Cut off from their town, their friends and even the rest of the team, can they survive and get through when they're all alone.
Well, maybe not quite totally alone...
---
This is the sixth story in the Iota Force series. Reading the previous stories would be helpful and will help give some things context, but hopefully the story will stand on its own. However, just to be safe, a summary of the series' premise, characters and previous stories can be found here.
Edited by Raven618
Cover Art by Mix-Up (Link to his Deviantart page).
Chapters (13)