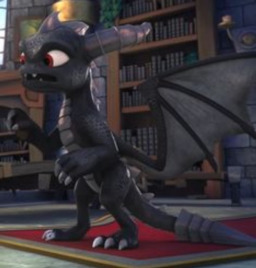 *Contains spoilers for Skylanders Academy season 1-3, if you want to avoid spoilers, do not read further.*
*I couldn't find a tag for Skylander's Academy or just Skylanders, so Spyro The Dragon will have to do.*
Dark Spyro, friend, enemy, loyal comrade, traitor, good, evil, friendly, hostile, he no longer knows, at first things were simple, go undercover and when the time was right, strike.
And then he failed, his cover was blown and he was driven to madness by Strykore, he was captured and then in his anger, he attacked Spyro after they were split, he failed again and almost died in the process.
Dark Spyro now finds himself somewhere unknown, freezing and badly wounded, he no longer feels Strykore's influence in his mind and he no longer knows his place, or where he belongs, he only has two goals in mind, survive, and make things better with his friends, if they even see him as one anymore.
But maybe, just maybe, this strange place could be just what he needs to at least try, he knows he might fail, but that no longer matters to him, a second chance was given to him, and he will do what he can with it.
*There are three what if scenarios that this is based off of, so if you haven't watched season 3 to its completion, i recommend you do so before reading.*
Chapters (15)