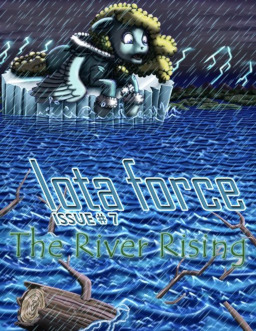 This story is a sequel to The Crystal Caves of Confuzzlation (Iota Force Issue #6)
---
Fear.
Icy Flight has encountered a number of dangers in her time with the young super-team Iota Force, many of which she rightly found intimidating. However, after a near-drowning, nothing has filled her with so much stomach-twisting, muscle-melting horror as deep water. Despite all her attempts to work past her phobia and her friends' assurances she's stronger than it, she simply can't see past her absolute terror.
So when somepony sends a torrential deluge directly at Ponyville, using weather equipment in a way previously thought impossible as a clear and credible attempt to flood and destroy the town, Icy finds her fear thrust forcefully into her face. Fortunately, it seems that Ponyville is a lot more ready to deal with a crisis than they seem, and a small (no pun intended) group from Iota Force is being sent into the Everfree to deal with the enemy. So, she can trust that things will sorted out soon enough - no need for her to have to put herself in danger, right?
Sadly, no matter how much she wishes she could, Icy simply cannot bring herself to sit back and do nothing. So, with only a couple of friends for company, she must venture deep into the wild, malignant forest and face down an enemy seemingly capable of predicting every raindrop, all without any backup or contact from Ponyville.
No matter what happens, whether the town is saved or destroyed, whether the team wins or loses, whether their opponent gets away, gets captured or takes victory, one thing is undeniably certain:
Icy Flight is having a very, very bad day.
---
This is the seventh story in the Iota Force series. Reading the previous stories would be helpful and will help give some things context, but hopefully the story will stand on its own. However, just to be safe, a summary of the series' premise, characters and previous stories can be found here.
Edited by Raven618
Cover Art by Mix-Up (Link to his Deviantart page).
Chapters (3)