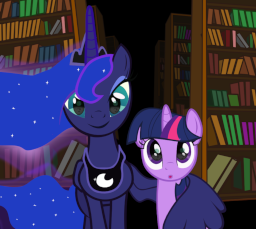 While studying the founding of Equestria in the Royal Library, Twilight comes across a very odd, and very old, book. Some of the historical accounts found therein are very familiar, part of any filly's childhood education, but there are more details. Troubling details. Since Celestia has taken leave for unknown reasons, Luna is the only pony around who gives Twilight any hope of finding out the truth. A truth that, as it turns out, Celestia never wanted her to know.
Teen rated for 'sad feels' and implied (though not explicit) deaths.
Special thanks to sqarishoctagon for giving me some useful pointers on formatting and helping to edit the first five chapters!
This was initially an in-universe story, but as of February 16th, 2013, it was rendered non-canon. It takes place in an alternate universe in which Season 3 never happened.
Chapters (14)