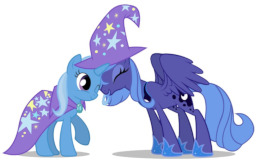 Fear, hatred, anger, jealousy, and despair. They all hold meaning to the Lunar Goddess that we call, Luna. What do each of them mean? Luna knows, she knows them all too well. How can one save themselves from such horrid things. That's what Luna is desperately seeking. The only one to help her on the journey is the living embodiment of each of those things, Nightmare. Trust is the name of the game those two play as they spend more time with each other. So, what is the key to putting all this darkness behind her and move on? It's in the shape of a lavender mare, with hopes and dreams of her own, Twilight. But when an unstoppable force meets an unmovable object, bi-polar vs bi-polar, there will always be damage on a collateral scale. Given the chance, will Trixie, Luna's personal maiden, swallow her ego, forget her grudge with Twilight, and pay the debt she owes to the Lunar Alicorn? Or will her pride and bravado as well as Nightmare's drive Luna to insanity?
Picture belongs to... you know what? I change this every few weeks, I'll have a permanent picture at the end of this fiction.
Thanks to my editor 1over0 who constantly tells me to write better. Also thanks to my new editor, Tonto the Trotter. Now my second editor, TwiLunaLover.
Chapters (12)