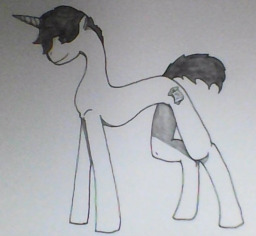 Tenor Tune, the son of the now retired ex-Captain of the Guard--Iron Brigade--is in bind. he wants to make his father proud, being the best of the best in the royal guard...but at the same time, Tenor is frustrated that his father's controlling & strict nature prevents him to do the one thing that he wants to do, the thing that earned him his cutie mark. Singing. Will Tenor eventually leave the guard, and finally shrug off his fathers controlling grasp over him, and make his dream of becoming a singer a reality. or will he forgo his dream and remain tied to his fathers way.
---
-I do NOT own the OC known as Tenor Tune, i am given premmison to use it for this fic. the only OC's I do own are the parent figure characters & a barmaid mare I created to help play the story.
-the inspiration for this fic comes from one of my followers, SilentStrike, who wanted to see if I can make a story around his OC. hopefully I'll end up making something good. and if SilentStrike reads this, I hope I do your OC justice, i even drew a quick sketch of the OC to help me visualize him. and thank you again for the Follow.
Chapters (10)