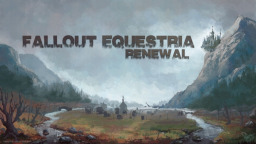 Source
When the water is tainted, Stable 10 purifies it.
When the air grows stale, Stable 10 recycles it.
When a pony dies, Stable 10 plants them in the gardens.
When the talisman powering Stable 10's ancient generator begins to falter, Aurora Pinfeather learns that for her world to survive she must gamble her life on the thin chance that its salvation lies somewhere deep within a world that killed itself centuries ago.
With each passing generation, the lessons of a catastrophic war have slowly been forgotten. New factions have arisen to take up old banners, and in the midst of it all one pegasus pulls at a thread, unaware of the lost weapon on the other end that threatens to unravel everything.
Chapters (14)