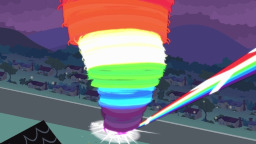 Everyone at Canterlot High saw what happened to Sunset Shimmer. She turned into a demon and became trapped in a rainbow vortex. But what about Sunset? What did she see on the other side?
This is a special one-shot that takes place within Not Just Any Old Continuity, but it can be read on its own.
Featured on 1/23/19!!
If after reading this story you want to read through N.J.A.O.C., you can start at Sunset Shimmer's Sick Day.
Click here to see all of my stories!
Chapters (1)