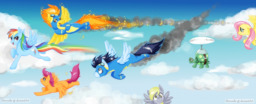 Source
What do you do when a mistake could cost you the chance of pursuing your dream?
What happens when that mistake leads to a new life entering this world?
Two families share that one unexpected bundle of joy. As celebrities secrets are uncovered and relationships tested, none of the Wonderbolts or the mane six will ever be quite the same.
Thanks to super3rainbow1 for proofreading and helping me brainstorm.
Chapters (18)