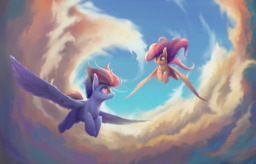 Source
A story of how Fluttershy and Rainbow Dash met as fillies. The joys and hardships of life, friendship, and love and all the surprises that happen along their journey as they become best friends--and much more.
This cute fic includes Flutterdash shipping as well as hints of SoarinFire and TwiLuna.
After about 6 years of hiatus, I have revised and rewritten the whole story so far with the intent of continuing and finishing it. Re-release started in early 2019 with a revised chapter 1. 2020 marks a brand new chapter 9 and the continuation of the tale of two cute social outcasts. 
Thanks to Super3rainbow1 for pre-reading and helping out when I needed someone to bounce ideas around with.
Chapters (17)