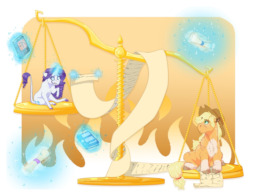 Source
Applejack didn't expect her crush on Rarity to actually be mutual. Then again, she also didn't expect Rarity to condemn her soul to Pony Hell.
Rarijack with a tiny side dish of Flutterdash.
Written for the BARCAST WRITING CONTEST #2: Make Rarity Not Garbage. Because nothing says "not garbage" like "I just ensured your eternal suffering, darling."
This fic finally has cover art, thanks to the always-amazing Earthsong!
Chapters (1)