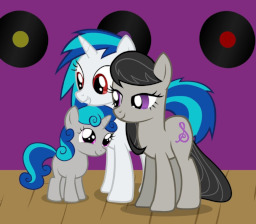 Source
Octavia isn't the type of mare to mix up with suspicious crowds. She stays away from ponies who are different from herself, never giving them second thought, never considering the fact that they might be friendly.
But what happens if Octavia doesn't have a choice? What if she needs one of these uncouth ponies she so despises, and avoids at all costs? And mostly, what will her family say if she goes as far as to fall in love with one?
Rated teen for some minor sexual themes
This beautiful new cover pic is by the great and powerful (in my opinion) RainbowShy1241. A big huge thanks to you, because it's awesome!
Chapters (37)