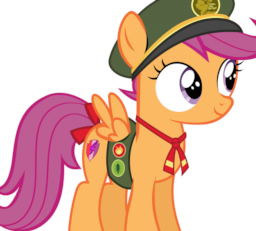 The Filly Guides believe in three basic tenets:
Love your fellow mare.
Do onto others as you would have them do to you.
No filly left behind.
And somewhere between those three would be the rule that any Filly Guide must have all their basic merit badges by the end of their first year. Then again, that rule may be written between the lines of the welcome pamphlet they hand out at orientation. Who can say?
What can be said is that out of all the little fillies of Troop Two-Oh-One, Tag-A-Long has just one scout short of just one simple badge. Easy-peasy.
Edited by: Chaotic Note, AlicornPriest
Chapters (1)