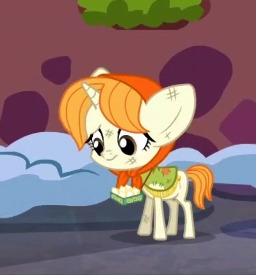 It was the evening of Hearth's Warming. Stallions hurried home from work to celebrate with their families, mothers were busy buying last-minute gifts for their daughters and sons and little foals were sitting in front of the chimney, waiting for presents and a festive dinner.
As the sun begins to set and it grows darker and darker on the streets, only few ponies remained outside.
One of these ponies was a little filly. Even though it was cold and even though nopony stopped for her, she abided the frost and the darkness.
For all she wanted was to sell her matches. This is the story of.....
.
.
.
.
A ponification of H.C. Andersen's work "The Little Match-Girl", staying true to the original story's style and spelling, with a few expansions and additions and a slightly altered ending to present it in a new light.
Chapters (1)