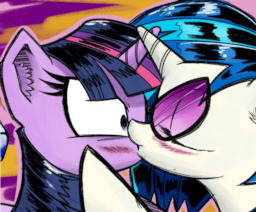 Source
"Backstage Affair" has gotten a sequel! Check out "Centre Stage Romance" here!
---
It could have been a normal evening for Twilight. Hanging out with her student, experimenting with magic, trying to fix the map... Thanks to Pinkie, it wasn't.
Now she was here in Manehattan, at night, and to keep the crazy, pink mare at hoof's length, she had no choice than to hunt after an obscure destiny that was supposed to change her life... Something she did not believe in the slightest.
That her life would get turned upside down by a random visit of Manehattan at night was just completely absurd, that's something Twilight was sure about...
Short Twinyl shipfic, commissioned by Rubahhitam for winning the fourth Cutie Mark(ed) Crusaders fic contest. Set after the events of "The Saddle Row Review" and a few days before the events of "Spice Up Your Life".
Cover picture was drawn by MrSpanners on Deviantart.
Chapters (1)