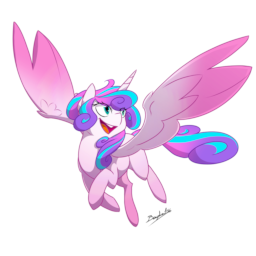 Source
Five years have passed since the destruction of the Crystal Heart.
Flurry Heart has grown into an adorable little filly and she almost couldn't be happier with her life.
She loved her parents, she had an amazing friend, flying filled her with a passion like nothing else and there were so many wonders in the world!
Flurry Heart was loved by nearly everypony in the Crystal Empire and she almost considered her life as perfect.
But true perfection doesn't exist and even a filly as lovely as her had to deal with hardships.
And when the past rears its ugly head and a decision made years ago turns out as a fatal mistake, Flurry Heart has to learn that life can turn on you whenever it wants.....
My first fanfiction for Flurry Heart! Don't let yourself getting fooled by the funny sounding title, this is one for the feels.
The cover picture belongs to Basykail on Deviantart. Thanks for letting me use it!
2016/03/05: It made it to Popular Stories!!!!!!!! That's the first time one of my stories managed this! Thanks for the support, everypony!!!!!!!!!!!



07:31 PM CET: And this marks the moment where this fic reached 106 views, which makes "Princess Flurry Heart, Destroyer of Worlds!" my first multi-chapter fic that reached 100 views in the first 24 hours.
Thanks for the phenomenal support to all the ponies who are reading it!

Chapters (28)