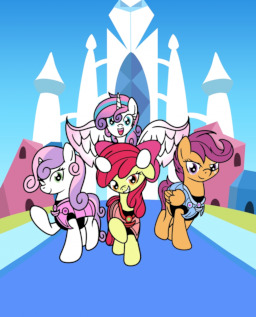 Ten years after the attack of Lord Tirek, Queen Chrysalis and failed friendship student Cozy Glow, that brought the ultimate test for Princess Twilight Sparkle's Friendship School, strange things are happening in Equestria... Ponies are suddenly not able to get cutie marks anymore and even Equestria's cutie mark experts can't explain what is happening!
A journey has come to a close and three ponies are suddenly left without a purpose in life... but in a place far away from Ponyville, an entirely new journey awaits.
Follow Apple Bloom, Scootaloo and Sweetie Belle into the Crystal Empire, for their biggest challenge yet! Investigations, research, villains old and new, epic adventures and... a rambunctious, hyperactive teenage princess?!
They might have to learn that, sometimes, the biggest adventures happen when a young crystal grows...
Come back for a new episode of My Little Pony: Guardians of Crystal Growth every Saturday at 11:30 AM EDT! Only where your ponies are, on Discovery Family!
The cover art and the "My Little Pony: Guardians of Crystal Growth" logo were designed and provided by DinkyUniverse.
Chapters (6)