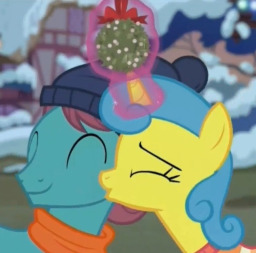 Hearth's Warming Eve in Ponyville is always one of the most festive occasions in Equestria, a time for love to warm the chill air.
Today, two ponies will feel the same warmth in the chill air. Autumn Leaf is about to be presented his first gift from his distant admirer, Lemon Hearts: a sweet kiss under the mistletoe.
Short romance practice done in honor of the short but cute scene in A Hearth's Warming Tail. Edited by themouthofmush.
Chapters (1)