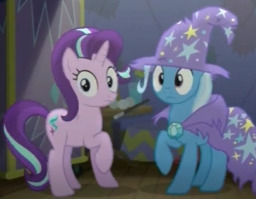 There are some days Starlight Glimmer knows she made a mistake.
It's been a few days since Trixie and Starlight made things right with Twilight and the three became friends, and it's been eating up Trixie to know just exactly what Twilight thinks of her now. So, as two unicorns break into Canterlot Castle at the behest of her new bestie Trixie, Starlight realizes today is going to be one of those days with plenty of regrets.
This story contains the following: Shameless new episode bandwangoning ,Shipnanigans, and Phil Collins
---
Originally written for the Writeoff competition, the short story contest with the prompt "Forbidden Knowlege."
Also, this story contains sorta spoilers for Season 6 episode 6 "No second prances" (but figuring you're already here the damage is already done.)
Chapters (2)