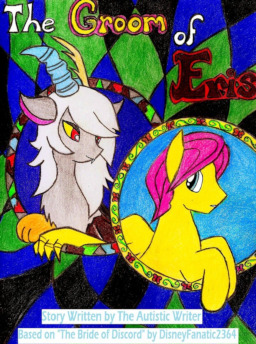 Source
A gender-bend version of Disney Fanatic 2364's "Bride of Discord"
She should have been imprisoned in stone. However, what if she escaped at the last second.
Three years pass by and Butterscotch still can't forget the female draconequus. The others have forgotten about her and have moved on with their lives. When she returns, she decides to wreck havoc on Equestria and turning it into her personal playground. The only way that she will stop is if she has a Groom.
Coverart by Fanshipping 713
Chapter 1 Edit by Danger A Dragon and AndromedaNova
Chapter 2 Edit by Danger A Dragon
Chapter 3 Edit by atronosthelast
Chapters (3)