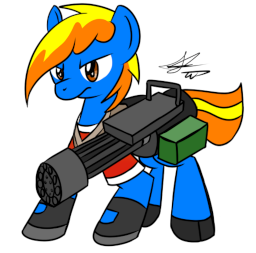 Source
For reasons unexplained, the keepers of the Elements of Harmony, Spike, their (OC) friend Chronicle, and Derpy Hooves are transported into the Team Fortress 2 universe. Before they could be found by either RED or BLU, somebody, a human named Tasic, came over and led them to safety, but not before they realized he and Chronicle have a connection and the latter's secret is revealed; both of them are members of the Story Crew. It's not know why the Equestrians were brought here, but Tasic intends to take them to the fight so they could survive…and possibly stop the fight between RED and BLU.
The characters' designated classes will be based on this picture, but with Chronicle replacing Celestia (seriously, she's overpowered).
And technically, all categories that would apply to Team Fortress 2 would apply here too, but I decided not to go too far by adding Comedy, Dark, Adventure, etc.
Rated Teen for Team Fortress 2's bloody nature. This story is "non-canon" to my main story accessible by the link in my OC character's name in this description.
Team Fortress 2 belongs to Valve.
My Little Pony belongs to Hasbro.
The Friendship Is Magic show belongs to Lauren Faust.
Only Chronicle, Tasic, and a few others belong to me.
Chapters (32)