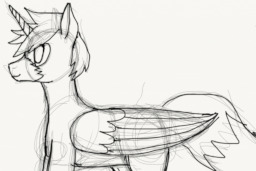 Cobalt never wanted to rule, he never wanted to be a prince of Equestria. He just wanted to see the world. Of course, he didn't realize how defenseless he was leaving his country, and his little sisters the Princesses Luna and Celestia.
Now, three thousand years later, He returns to Equestria, but not as he knew it. New towns and cities have sprung up in his absence, and everything seems unfamiliar. Even his family has changed and expanded. Still, he's visited culture of all different verities. He should be open to new experiences...right?
To preemptively avoid any issues with cannon, revealed later in the show, I'm going to make a point to say this story was mostly written between season 6 and 7, and therefore is set in that period
Special thanks to PlatinumPony for editing!
Chapters (5)