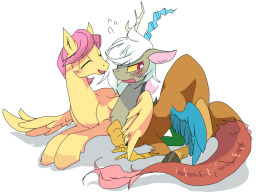 Butterscoth-"Who's my girl?"
Eris-"Shut up!"
Butterscotch-"Come on! Who's my pretty girl?"
Eris-"I'm not one of your puppies!"
Butterscotch-"Who's my special girl?"
Eris-"Grrrr!...I am."
Butterscotch-"Yes you are! Oh yes you are!"
It's times like these when Eris finds herself at a drawbridge. Unable to think clearly with the kindness of another being flowing through her throughts. The being of chaos, the entity of everything disarranged, the goddess of topsy-turvy. A once truly feared being that was capable of amazing feats. Being able to topple over two Alicorn princesses, turn a whole land into a crazed carnival, and chocolate rain! Facts placed aside though. Eris was changing. And all thanks to the love of one pony. Now if only she was able to return her feelings. If she was just born as a more sensible girl. With normal powers or just a plain pony. Why did it have to be so difficult? To just show her love for Butterscotch.
Chapters (5)