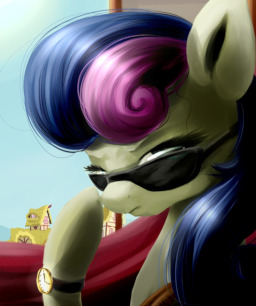 My name is Bon, Bon Bon.
Many of you do not know me. Many of you may not understand what I do. Yet I will tell you one thing. Many of my actions are hidden away for the benefit of ponykind. I walk a hidden path that no one can follow. Not even those that I love.
This means that my only form of family and a normal life are out of my reach and should remain that way. For if the truth was to be told the land would surely fall victim. Dark work is happening besides us and to the secret agents of the crown, we commit the deeds that need not be witnessed.
Even from your own eyes my beloved daughter.
Chapters (2)