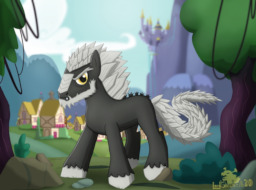 Source
For most of his life, Godzilla has been feared, hated, and alone. There was hardly ever a time where the kaiju knew of peace. And now, with his son dead, his body melting, and death stalking closer by the second, it would seem he never would.
But fate has a different plan for the King of Monsters.
Thanks to the help from an unexpected source, Godzilla awakens to find himself alive, his body changed, and that he is in a strange new land... full of talking ponies. It looks peaceful enough, but soon, the kaiju learns that finding contentment here may not be that easy.
On the upside, he won't be alone.
Proofread (Chapter 4 and up) by: HydraLightning
Cover art by Shrekzilla
Chapters (5)