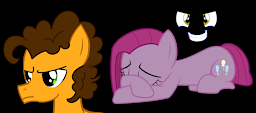 On one side, it is finally the night: Cheese Sandwich is going to confess his feelings for Pinkie Pie. As the night progresses, Cheese begins to notice something is up with Pinkie. What could it be? Was it something he said? Was it something he did?
On the other side, Pinkie Pie is currently confused by her emotions. Unfortunately, what makes it all worse are her nightmares about an old ex. She hopes that these nightmares do not become her reality, and ruin her relationship with Cheese Sandwich.
---
I do hope you all enjoy this, as much I enjoyed writing it.
Chapters (3)