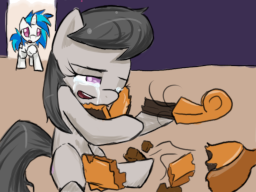 Source
After a long night of recording with Neon Lights, Vinyl Scratch comes home to find that there has been a break in. She rushes in to find Octavia sobbing on the floor, a broken cello grasped tightly in her hooves. What has happened to her beautiful marefriend, and is there any way for Vinyl to discover what hides within a room filled with tears, blood and broken pieces?
WARNING: Very suggestive and violent scenes.
---
Proofreader and collaborator by the wonderful VitalSpark (thankies!


)
Cover made by: ACharmingPony on DeviantArt.
Chapters (1)