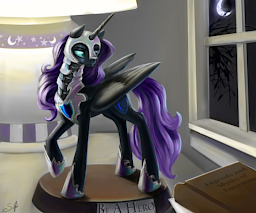 This story is currently being rewritten from the ground up.
It will be published as a separate story.
Please go to this group for ongoing chapters, news, and art on this project.
We also have a Discord server here where all the development takes place.
---
She was once the harbinger of nightmares, the bringer of eternal night. It has now been fifteen years since the failed plan to bring back Nightmare Moon and overthrow the royal sisters. Fifteen years since Equestria gained a new ally.
Now, with Equestria struggling through a prolonged war with the zebras, the mare who was once known as Nightmare Moon must walk the delicate balance between protecting the ponies she loves and losing her hard-fought identity.
Faced with a mysterious and brutal threat to Equestria, how will Nyx stand against a powerful new adversary who knows her better than she knows herself? What fate awaits her behind the dark secrets of an alicorn's true nature?
Commissioned cover art by SilFoe
Chapters (0)