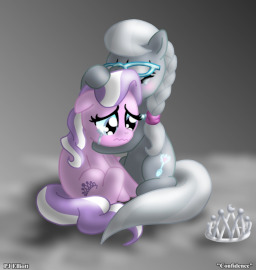 Source
This story is a sequel to A Ponyville Without Diamond
---
Diamond Tiara has had her cutie mark disappear, it was a terrifying day for the filly, then she saw an alternate Ponyville where the lives of other ponies went on as if she never existed. Those were humbling experiences for her, ones that changed her. Hopefully for the better.
Now she must face the potential wrath of an entire town and make amends to those she affected and she will take it one day at a time.
Just to be clear: The cover art was done by this guy.
Chapters (3)