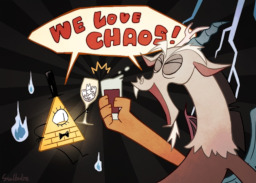 Source
As the spirit of chaos, Discord can sometimes feel lonely due to the fact that nopony will ever share his passion. Well, he's right, there is not a pony alive, dead, or yet to be born who will ever mirror his interests. But a certain all-knowing Illuminati Dorito might just be the friend he needs.
What happens when these two mischievous beings spend some time with the mane 6?
---
Random thing brought on by a bout of insomnia.
---
Featured as of 01/06/15.
Holly jeez, thank you everybody! So much

Chapters (5)