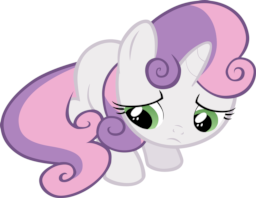 A mysterious plague runs rampant in Ponyville. Many ponies are sick, and some have died. Attempts to find a cure are unsuccessful. Sweetie Belle can't think of anything to do to help her sister, until she remembers the one being least likely to want to help out: Discord
Discord is uninterested at first, until Sweetie Belle blabs in desperation that she knows where Rarity keeps her Element of Generosity. Now she has an impossible decision on her hooves.
Will Sweetie Belle truly put all of Equestria in danger to save Rarity's life, or will she be able to find another solution?
Chapters (16)