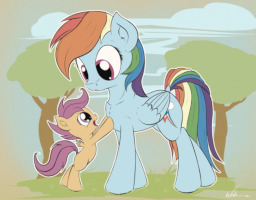 Source
The beginning of Scootaloo's life wasn't easy. At less than a month old she lost her parents and was herself heavily injured from an attack by creatures of the Everfree Forest. She was found by an elderly mare named Peach Cobbler.
She struggles with a condition from the accident where she's told her wings will never grow in right and leave her flightless for life. At first she's ready to give up hope, until a chance meeting with a certain blue pegasus that changes her life and makes her fight like she's never fought before, to accomplish the dream of catching up to her idol.
Along the way of her journey she learns a lot, mastering her scooter and flying skills, saving a few lives, and in the end she finally gets the chance to race against Rainbow Dash to show her true worth.
Link to cover art: http://neko-me.deviantart.com/art/Teach-me-how-to-fly-sis-464971041
RIP to JustAnotherBrony, who committed suicide. If it wasn't for his inspiration I might never have finished this work. Thank you for your support.
Chapters (9)