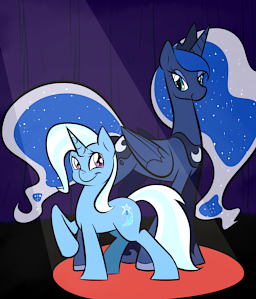 Source
Warning: has a pony go from regular sized to super fat. You have been warned.
Commission
Luna's school for Talented Unicorns has just opened, and the Princess in question is thrilled when her first student is ready and waiting to join. And to think, she only attended the opening ceremony less than twenty minutes ago. Kibitz won't mind setting up the paperwork, of course, as Luna preps the entrance test. He loves serving his princess, even if she is loud, obnoxious, eats too much, insults him, makes fun of his job...
Then again, Kibitz might be a little frustrated with his Princess of the Night. Maybe if she'd respected him, he wouldn't have prepared a prank to show what a little too much indulging can do. And maybe if Trixie hadn't been so excited, she wouldn't have triggered the trap first.
Chapters (1)