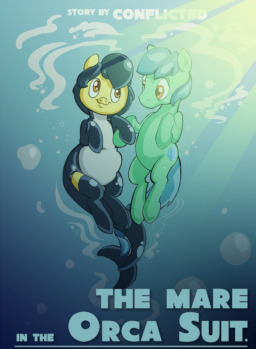 While this story is not intended to be a fetish story, it does contain ponies in diapers, and slight mention of them using these diapers. If this is something that bothers you, I ask that you either try to enjoy the story despite these things, or simply do not read. My intention is only a sweet, silly, cuddly story.
---
High Tide lives a quiet life by the sea, pleasantly existing day by day as he scrounged the ocean waves for treasures and nick-knacks. Not a whole lot happens, but that's fine. There's nothing in his life to complain about, and everything is fine.
Then, one day, he sees a mare playing in front of his house, splashing and bouncing in the surf. He watches, mezmerized, but how much fun she's having, and by that strange suit she wears, making her look like a dolphin, or an orca. She's hypnotic, aluring, different, new. His routine is gently shaken just by her being nearby.
Seeing her every day for a while makes him want to go up and talk to her, get to know her. And he finds he wants to talk to her more. Life becomes even better when he makes a friend as nice as Gabby.
Chapters (1)