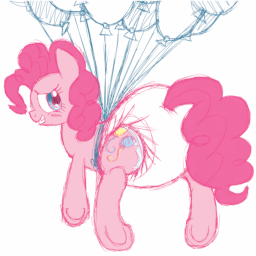 Source
Sequel to Pinky Dinky Pie. Contains a pony in diapers. You have been warned, but I ask you give me a little bit of leeway in that regard and give it a shot.
Pinkie loves just about everything, big or small. It's not a matter of whether she loves something, but rather how much she does.
Today, Pinkie isn't in a very loving mood.
The pep has fled the pink pony, leaving her as sweet as a raw lemon and a mane less poofy than a deflated souffle. She's grumpy, grouchy, her posture all slouchy, and the Cakes want nothing more than to help their newest 'daughter' back to her usual boumcy self. It's no easy task, figuring out the nuanced and indescribable thoughts of Ponyville's partier, but Mrs. Cake has plenty of experience in figuring out what her foals need. With lots of love, more than a few snuggles, and a small fleet of balloons, she might just be able to help her Pinkie Dinkie Pie back to her old self.
Chapters (1)