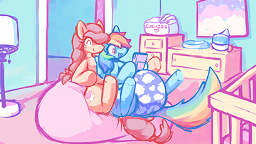 Contains ponies being cute in diapers and a a subtle messing scene. You have been warned.
A long-coming sequel to Twilight and Rarity go to the Spa
Rainbow Dash is not a foal. She's never thought about it, imagined it, or even given the idea of acting like a foal a passing thought. Which makes it all the more ridiculous when Twilight invites her to go to a spa specifically designed to make ponies feel like foals. Much to her chagrin, Rainbow Dash is talked into visiting. Much to her delight, it was nowhere near as bad as she thought it was.
A simple fluff story that was also a long-waiting commission. I hope you enjoy it for the snuggles.
Chapters (1)