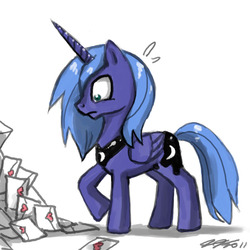 There is a ton of mail in Canterlot. What are Princess Celestia and Princess Luna to do? At Cadence's suggestion, they do the only logical thing: answer it with the help of Equestria's two premier jokesters, Rainbow Dash and Pinkie Pie. Join them on their quest to answer strange questions, eat snacks, and make many inappropriate jokes along the way.
Written for the purposes of:
a) to help with my depression
b) get a lighthearted, funny, episodic fanfic up on FIMFiction
c) give Respawn Inbox the semi-crossover it deserves
d) Mr. Sark is best pony
To ask a question to the hosts, go here. Any questions not at this post will be rejected outright. Make sure to read the rules, too.
Chapters (8)