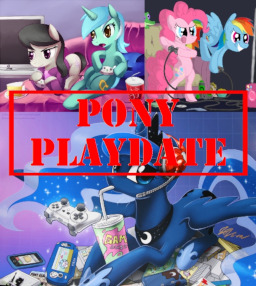 A new wave of astounding technology has hit Equestria in past years, the most notable of them being the inventions of personal computers and the Internet. Of course, this new technology isn't going to waste. Along with the Internet craze birthed a new kind of hobby: online gaming. Several hundreds—perhaps even thousands—of games have arrived because of this new technology, evolving it from the simple 8-bit games that had filled the arcades across the land.
Six superb mares have drunk the Kool-Aid of this gaming cult: a rainbow-maned destroyer, a flamboyantly pink baker and hard-partier, a millennia-old dream weaver of a princess, a ditzy muffin muncher, a candy-loving lyrist, and a gracious cellist with the mark treble clef. Together, they make a motley gang of gamers, some newer than others, that will at times die at the hooves of another while at others standing tall with one another.
These are their let's-plays…dun-dun.
Chapters (1)